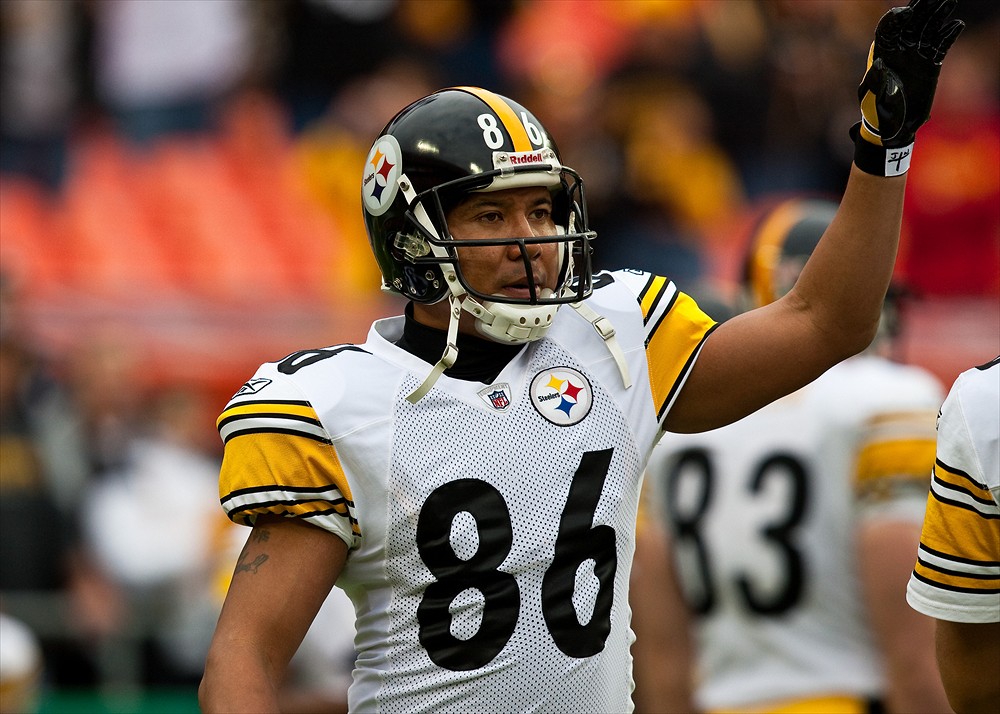 Hines Ward has been released by the Pittsburgh Steelers. Despite the outpouring of sadness across Steeler Nation, it isn't quite the bombshell it would have been even a season ago. In fact, everybody from Hines on down have acknowledged if he were to return next year, it would be under a reworked contract and in a reduced role. Nevertheless, just because we knew this was coming doesn't make it any easier.
Unlike the last great Steeler to retire, the end for Hines comes not with a bang but with a whimper. Our final memory of Jerome Bettis is him announcing his retirement while holding the Lombardi Trophy aloft. Our final memory of Hines will be those annoying shots of him sitting glumly on the bench while the Steelers' offense tried time and time again to get something going against the stubborn Denver Broncos. While the Bus didn't exactly set the world on fire his last year, he still contributed 9 touchdowns and 26 heart attacks when he fumbled the ball in Indianapolis. Hines had a totally forgettable season, barely seeing the field for long stretches of time. Even what should have been his signature moment, his 1,000th career reception, was somewhat anticlimactic when it was force-fed to him on a little shovel pass which lost five yards.
But let's not dwell on the sad ending. It's far better to Hines for what he was, the greatest wide receiver in Steelers history. Not bad for a third round draft choice out of Georgia. He came to Pittsburgh with little fanfare and spent most the majority of his first three years playing special teams and serving as a third receiver behind Plaxico Burress and epic first-round bust Troy Edwards (what the hell were they thinking when they drafted him?). When he finally became a full-time starter in 2001, he ripped off the first of four consecutive 1,000 yard seasons and Pro Bowl appearances. From that point on, Hines Ward and the Steelers became synonymous.

While his success catching the ball cemented his place on the team, a lot of the other things Hines did are what made him arguably the most popular Steeler of the current era.  Popular with the fans, that is, as Hines frequently topped player surveys asking about the league's dirtiest player. Hines wasn't a dirty player, he simply played wide receiver like a FOOTBALL PLAYER. Somewhere during this time of the Diva Receiver, it became passe and even taboo for a WR to do things other than jog down the field at half speed on running plays. Hines never took a play off. When he ran a route, he ran it precisely. When the Steelers ran the ball, he looked to throw a block. When somebody else caught the ball, he looked to throw a block.
Many opposing players didn't take kindly to this. Hines didn't care. He always saw himself as a blue collar player, one who excels not because of superior athletic ability but because he'll always play a little bit harder than everybody else. When any other great receiver retires, his fans flood talk shows and blogs with memories of this catch or that one. It really says something that with Hines, the two most commonly cited plays from his career have been the time he obliterated Ed Reed on a Monday Night and the play where he smacked Keith Rivers so hard, he broke his jaw.
Oh, players tried to retaliate. Hines took more than his fair share of big hits during his career. But he'd always pop right back up with a smile on his face. That smile, man, I truly believe Hines' smile won him a couple of those Dirtiest Player polls because nothing rubs salt in a wound worse than laughing after taking a big lick. The smile really epitomized why Steeler Nation loved Hines Ward. He'd smile after scoring a touchdown, scanning the crowd to gift the ball to a lucky fan in a #86 jersey. He'd smile after a big hit, either giving or receiving. And he'd smile after a win, whether he caught 200 yards worth of passes or 20. In a time when so many receivers are high-maintenance Divas who pout or grouse if they're not fed the ball on the reg, Hines always cared more about winning than his personal statistics.
Hines, through his agent, released the following message upon learning of his release:
This isn't how I wanted this chapter of my career to end. I did everything in my power to remain a Steeler and finish what I started here 14 years ago. I want to thank the organization, my teammates and coaches and everyone who made my run as a Steeler the best years of my life. To Mr. Rooney, thank you for allowing me to play for one of the greatest organizations in the world. To my fans and in particular, Steeler Nation, thank you for your support and all the great memories. I gave my heart and soul for you every down and I will always bleed black and gold. I do feel that I still have more football left in me and I am looking forward to playing in the NFL, again, this upcoming season.
While this post is sounding like a retirement tribute, it's important to note Hines has no intention of hanging up the cleats. As you see in the above statement, Hines feels he can still play and will be seeking employment elsewhere next season. Also in the statement, he seems to infer he tried to re-negotiate with the Steelers but either they weren't offering what he wanted or they weren't interested in bringing him back at a reduced cost. While this isn't quite the acrimonious exit long-time Steeler fans will recall happened when Franco Harris and Rod Woodson ended their Pittsburgh careers, it does portend a little bitterness. In that vein, it's interesting he thanked Dan Rooney without acknowledging his son, team president Art Rooney II. This would be the second big name to pointedly ignore the Deuce during his exit as Bill Cowher famously made it a point not to mention Art II when thanking all his friends in the organization.
So the Steelers will enter next season without the familiar #86 for the first time in fourteen years. If Hines still has gas left in the tank, we will be treated to the unusual site of that #86 clad in colors other than black and gold. Regardless of what color jersey he's wearing when he catches his last pass, Hines Ward will always be a Pittsburgh Steeler. And some day, we'll all descend upon Canton to see that famous smile one last time.