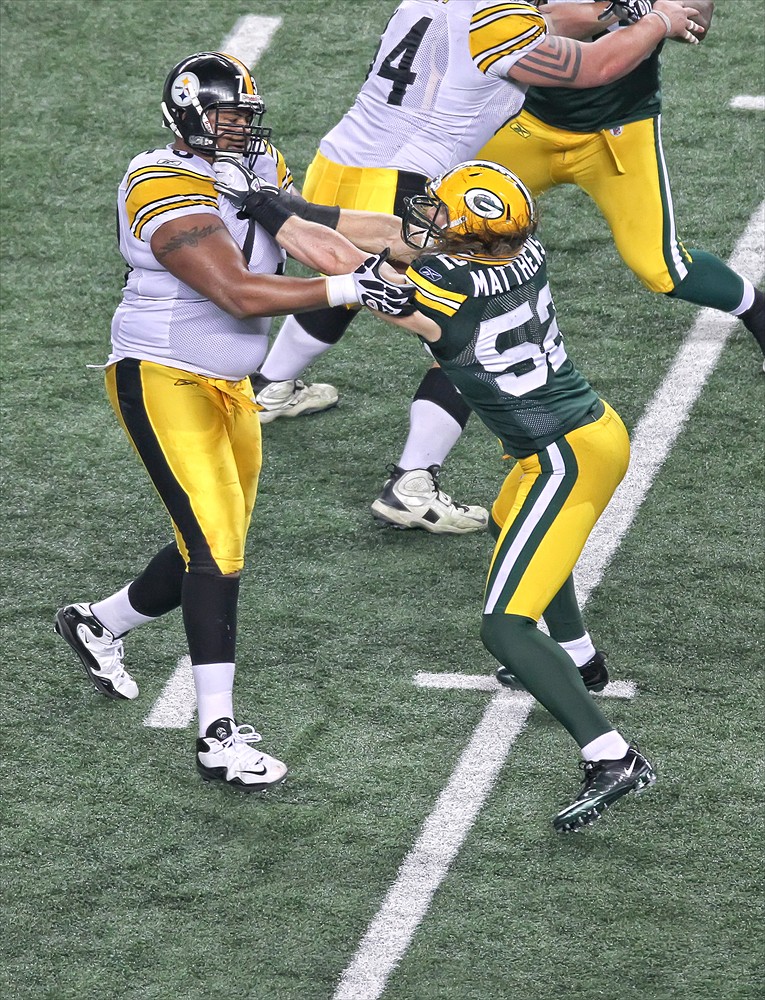 Better late than never…
In an off-season which has seen a non-stop parade of starters leave town, the Pittsburgh Steelers have finally brought back one of their first stringers. Restricted free agent Ramon Foster signed his one year tender, ensuring he'll be a Steeler in 2012. Foster was signed as an undrafted rookie back in 2009 and started four games that season. The next year, he took over for an injured and ineffective Trai Essex and has started at right guard in 22 of  32 regular season games since.
I admit reading "The Steelers signed a free agent!" or "The Steelers signed an offensive lineman!" only to discover they re-signed Foster is somewhat akin to conducting a hard target search of every gas station, residence, warehouse, farmhouse, henhouse, outhouse and doghouse in quest of your Easter Basket only to discover your parents hid it in the hamper and it's filled with chipped ham. Foster is the kind of thoroughly mediocre lineman Kevin Colbert and company are inexplicably happy with charging to protect their $100 million franchise quarterback. If Doug Legursky also signs his tender, neither of our starting guards will have been one of the 255 best players in college football the year they graduated (ie: neither were drafted). It's like building a beautiful mansion and then investing in two pieces of plywood and a chihuahua to defend it.
At the same time, the Steelers offensive line situation is dire. How dire? If you bring up the team's depth chart on Steelers.com, the left guard position is completely blank. And, no, I don't think that's a really clever tribute to Chris Kemoeatu. Between no LGs and Max Starks, who tore his ACL so who knows if or when he'll be ready to come back, still being listed as the starting LT, the Black and Gold are alarmingly thin on the O-line. Considering the team used something like ten different starting combinations over the course of last season, I'd like to see a minimum of five decent starters and two capable backups. With Foster's return, at least the team's current complement is up to four.
Foster was technically a restricted free agent but since he was undrafted and tendered a minimum contract, any team could've signed him for just the cost of $1.5 million. The fact he signed his tender well before the April 20th deadline for signing RFAs indicates he wasn't exactly a hot commodity. Considering freakin' Kemo inspired a bidding war, I'm not sure what that says about Foster. Then again, teams have shown a pronounced lack of interest in any restricted free agents this winter.
Yes, I have to once again mention Mike Wallace. If for no other reason than the fact his grizzled 60 Minutes namesake passed away at the grand old age of 93 and searches for the name Mike Wallace are probably going to spike today. No longer will the Flash be known as "The Other Mike Wallace," at least not to those of us under the age 50. Perhaps it will also force that insufferable Chris Berman to come up with a new but equally unfunny nickname for our star receiver. Finally, I do want to note some second stringer at ProFootballTalk recently posted an item about interest in the younger, more lively Wallace having "dried up" wherein he makes the same points our buddy Hennessy already made two weeks ago.
Better late than never.