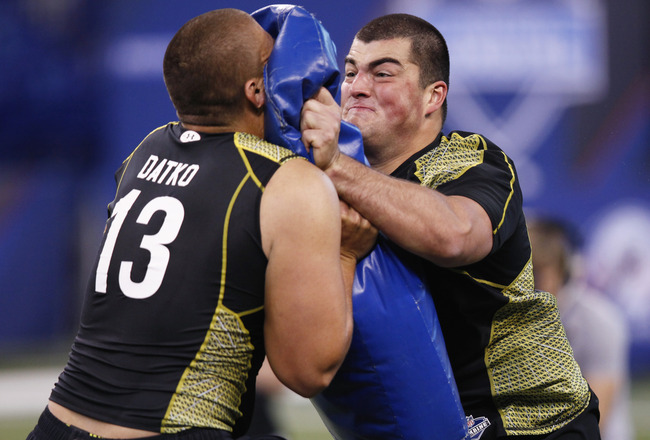 Look, ma, the Pittsburgh Steelers can negotiate contracts after all!
While the Mike Wallace saga continues to drag on, the Steelers finally completed one successful negotiation. First round draft pick David DeCastro will officially sign with the Black and Gold on Thursday, the final member of the team's 2012 draft class to reach an agreement. With a wage scale slotting system a part of the last CBA, there wasn't much for the two sides to quibble about in regards to money. However, there was some hassle over whether his guaranteed contract would run three or four years. When the 25th pick (Dont'a Hightower) and the 23rd pick (Riley Rieff) recently completed their deals with only three years guaranteed, it became readily apparent DeCastro would get three and like it.
The contract, as per the CBA, calls for DeCastro to make $7.8 million over three years, most if not all of which I assume is guaranteed. The Steelers also hold options for a fourth and even a fifth year with some piddling workout and roster bonuses guaranteed in year four. If this kid is as good as advertised, and many draftniks were calling him the best offensive guard prospect in the past several years, he won't have to worry about those options being picked up. Perhaps the best part of this deal getting done well in advance of training camp is now DeCastro will have the benefit of a full camp which he probably needs after missing almost all of mini-camp finishing up his classes at Stanford.
The Steelers have high hopes for DeCastro, already penciling him in as one of the starting guards for this upcoming season. After cutting useless Chris Kemoeatu, the pickins' are slim with Doug Legursky and Ramon Foster currently the only players on the roster with starting experience at guard. The team is planning to experiment with moving Willie Colon to guard although who knows if that's still in the cards. The team has equally high hopes for 2nd round pick Mike Adams but he's said to be a little raw which is probably why they recently re-signed Max Starks. At this point, the only certainty on the O-line is that Maurkice Pouncey will be the starting center. Besides Pouncer, we're pretty much assured DeCastro and 2nd year tackle Marcus Gilbert will start although their play and the play of others will determine who starts with them and whether they play the right or left sides.
While this level of uncertainty may sound a bit pessimistic, it actually is not. As anybody who has witnessed Ben Roethlisberger running for his life over the past several years can attest, almost any combination will be better than what we've had. And with DeCastro officially in the fold, perhaps we can even dare to hope for so much more.