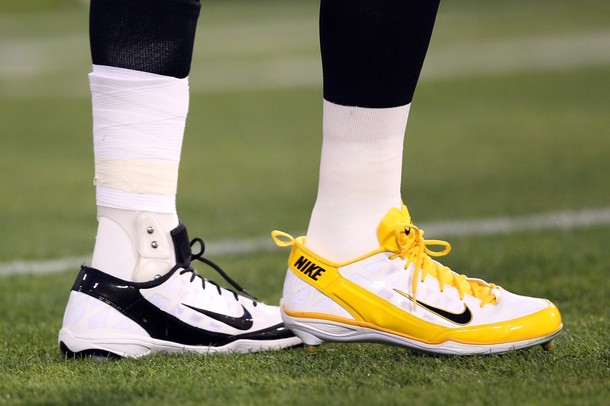 Last week, Ben Roethlisberger told anybody who'd listen he was suffering from a "a little torn" rotator cuff. How'd I first hear of it? Oh, from the 745 or so posts that flooded my timeline on Twitter minutes after the story broke. As I later wrote on the subject, a partially torn rotator cuff is not really as big a deal as Ben, some football writers, or hysterical Pittsburgh Steelers fans made it out to be. For some perspective, Eli Manning played through the exact same injury a few years back when he led the Giants to that monumental upset of the undefeated Patriots.
I'd hoped that would be the end of the Big Ben Injury Report, at least until we got a few weeks into the season. Alas, that was not to be. During Saturday's practice, a lineman stepped on his foot while he was attempting a pass, the same foot which was twisted in grotesque fashion during that Thursday Night game against Cleveland last season. One would think eight months would be enough time for it to sufficiently heal but evidently this caused Ben to limp off the field in obvious pain. He was next seen hobbling around the sideline with the foot iced and wrapped. When he missed practice on Sunday, word began to spread he sprained his ankle, although he later assured Uncle Eddy at the P-G that was not the case.
In any event, Ben hasn't even taken the red jersey off yet and he's already getting beat up. I shudder to think what calamities will befall him once he starts facing actual contact. These ongoing injury reports do make me a tad nervous about how he's going to last an entire season. Between his physical style of play and the Steelers' lousy offensive lines, I always felt Ben's body was going to break down a lot faster than those of sissy quarterbacks who fire the ball into the cheerleaders at the first sign of danger. I don't think we need to panic yet but these may be the first signs that Ben, like his idol John Elway before him, is reaching an age where he should begin tempering his sandlot style in favor of pocket passing and more reliance on the running game.
The good news is it appears Ben will be protected by perhaps the strongest O-line he's had since his first couple years in the Black and Gold. One of the more noteworthy items to come out of recent practices is rookie OT Mike Adams has been been running with the first team. While almost every draft "expert" acknowledged Adams had first round talent, their concern was over how raw those skills were and how much polish he needed to become a starter. While first rounder RG David DeCastro, who was said to be a finished product, has been struggling to the point he might not start over Ramon Freakin' Foster, Adams is apparently coming along a lot faster than any of us expected.
Adams starting at RT is a big accomplishment because the Steelers have plenty of options at the position. Too many, in my opinion, as it seems they have a number of capable RTs (and Willie Colon, who is moving to guard because of the glut) but a whole bunch of question marks on the blind side. If Adams claims RT, incumbent starter Marcus Gilbert could slide over to the position he played in college. He looked over-matched at LT when pressed into duty last season but maybe he just needed a year to adjust to playing in the NFL. Recently re-signed Max Starks is a Pro Bowl caliber LT although between age and injury who knows what he has left in the tank. Then again, one thing I learned about Mad Max is to never underestimate him. He may be down but he's never out.
The same could also be said about Big Ben.