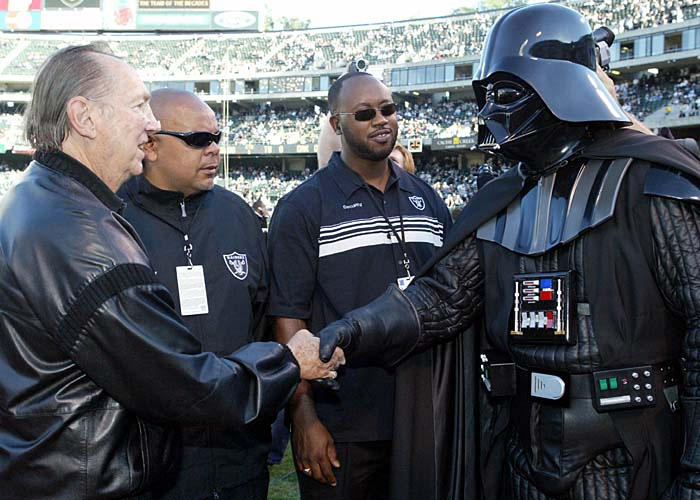 The Pittsburgh Steelers face the Oakland Raiders this Sunday. The Raiders are 0-2. Some people believe the Raiders are the worst team in football. I say none of that matters.
The Force is strong with Oakland.
And by "strong" I don't mean the pimp hand with which Richard Seymour is able to cheap shot our superstar quarterback. And by "Force," I'm not talking about the energy field which surrounds all living things and binds the world together. No, I'm refering to whatever evil Dark Side mojo the Raiders seem to hold over our beloved Steelers.
On paper, this game should be a cakewalk for the Black and Gold. However, diehard members of Steeler Nation know better. Forget about records, forget about who's playing for who or who's healthy and who's injured, none of it matters. The Raiders always seem to give the Steelers all that they can handle.
In 2006, the defending champion Steelers traveled out to Oakland only to come home with loss, thanks primarily to Ben Roethlisberger tossing a pick that was returned 100 yards for a TD. That Raiders team only won two freakin' games that season. In 2009, the Steelers were once again defending champions and once again suffered a shocking defeat. This time they were beaten by an Oakland team which would finish with five wins. In 2010, we finally whupped them good although Seymour laid his own whuppin' on Big Ben.
The bottom line is nothing good ever comes from playing the Raiders. Nothing.
STEELERS DEFENSE vs RAIDERS OFFENSE
Ah, sweet irony. Our old friend Carson Palmer refused to report to the Bengals and eventually forced his way out of Cincinnati because he was sick of losing. Naturally, the Bengals made the playoffs last year while the Raiders finished third in the AFC West at 8-8. Now he has to contend with a solid Chargers squad and Peyton Manning out in Denver.
Palmer still has the big arm, unfortunately he doesn't have very good targets to throw at. One of late owner Al Davis's last controversial moves was drafting WR Darrius Heyward-Bey with the 7th overall pick in 2009, passing over Michael Crabtree, Percy Harvin and, eventually, Mike Wallace. Heyward-Bey came within 25 yards of posting his first 1,000 yard season last year but has generally been regarded as a disappointment. If you keep a lid on Heyward-Bey, there is steep drop-off when you go to Denarius Moore and journeyman Derek Hagan.
The Raiders best offensive weapon is of course running back Darren McFadden. Run DMC is actually more of an all-purpose back in the Ray Rice mold (and we know how Rice tortures the Steelers). Injuries limited McFadden to only seven games last season but in 2010 he had his break out, rushing for 1,100 yards and catching another 500 yards worth of passes. If the Steelers have any trouble with the Raiders offense, it'll be because they can't handle McFadden.
The Steelers D will once again be without James Harrison and Troy Polamalu. I already discussed the Harrison situation in great detail, I have no idea the severity of Troy's injury although Tomlin is assuring everybody it's a minor calf sprain. Yeah, right.
The good news is the defense played quite well without them last week. LaMarr Woodley stepped up in the pass rushing department while Ryan Clark did a great Polamalu imitation in the secondary. The key this week will be the inside backers, Lawrence Timmons and Larry Foote, who'll be charged with keeping tabs on McFadden. If they have a good game, the Steelers should be able to keep Palmer in check. If not, well…
STEELERS OFFENSE vs RAIDERS DEFENSE
#FreeToddHaley
Mike Tomlin said in his weekly lie-fest, er, press conference that he's been disappointed with the Steelers running game. If they don't get it going this week, they're never going to. Last week, the Reggie Bush of the wretched Dolphins dropped 172 yards on them. Rashard Mendenhall is once again sitting out so this may be the last best chance for iRed and Jonathan Dwyer to prove they can be counted on to tote the rock.
Of course, while the Raiders run D is horrid, their pass D is merely awful. Nobody has put up a big number against them but they haven't exactly been shutting anybody down either. They have one sack in each of their first two games and have yet to intercept a pass. They'll probably do a  little better at rushing Big Ben this week because, well, everybody does but a secondary filled with has-beens and never-weres would seem to be easy pickins for a Steelers team disgustingly deep at wide receiver.
The Raiders have some players who, in theory, should provide some problems for opposing offenses. Their defensive tackle tandem of Tommy Kelly and old friend Richard Seymour are a solid if aging duo. MLB Rolando McClain is a game time decision coming off a concussion last week. He hasn't done much this year but he has a definite pedigree as a pass rusher. And safety Tyvon Branch has been an active if unspectacular player throughout his NFL career.
The Raiders have been in both their games well into the second half so don't expect an early blowout. However, if Todd Haley turns Big Ben loose early and often, he could succeed in dragging Oakland into a track meet their ill-equipped to handle. Last week the Steelers D was able to stifle an offense lacking in playmakers and led by a below-average quarterback. This week, they face a stiffer test on both fronts. With that in mind, the best course of action may be to simply try to get out to a lead and challenge them to catch-up.