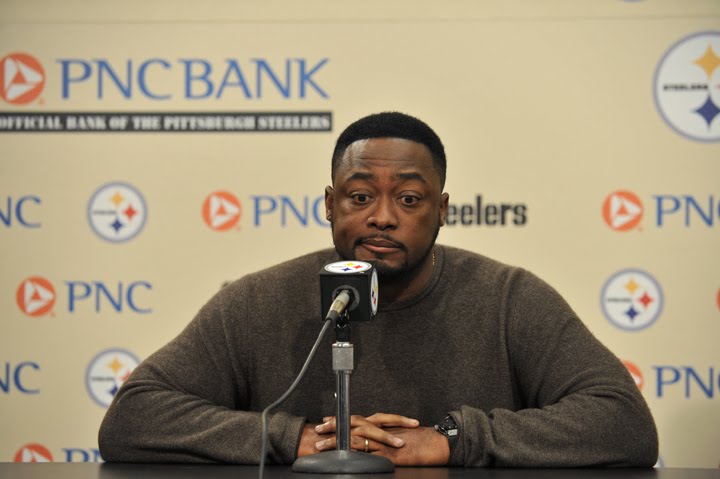 The Monday after a loss by the Pittsburgh Steelers is always interesting. Local talk radio airwaves are usually filled with a mixture of doom, gloom and Monday morning quarterbacking. The level of vitriol increases exponentially when the Steelers lose a game in miserable a fashion. So in the wake of Sunday's absolute ass-kicking by the San Diego Chargers, I expected yesterday to be a red letter day for yinzer sports talk.
To my surprise, instead of bemoaning Curtis Brown's absolute ineptitude or bitching about the stone hands infecting Young Money Cash Droppahs, the issue on everybody's minds seemed to be Mike Tomlin's decision not to go for a two point conversion in the 4th quarter.
Here's the scenario. The Steelers were down 24 with about seven minutes left. With Ben Roethlisberger and the rest of the starters still in the game, they scored a garbage time touchdown to make the score 34-16. Tomlin kicked the extra point, which left the deficit at three scores (17 points) instead of going for a 2 point conversion which would've cut it to 16 (two TDs + two 2 pts).
When asked why Ben was still in the game despite just missing three games due to life threatening injury, Tomlin responded, "We always look to compete." But when asked why he didn't go for 2, he said, "We didn't want to put our special two point plays on tape." So which is it? If you're trying to compete, you go for two and cut the margin to two touchdowns. If you're in full mop up mode, you kick the XP and put your recovering franchise QB on the bench.
Tomlin's weekly lie-fest press conference is later today and I wager nobody in the rah rah cheerleader local media presses him on this contradiction. That didn't stop Steeler fans from calling in droves yesterday to call BS on Tomlin's nonsense. Leaving aside the obvious lie about the "special two point plays" (they couldn't call a regular goal line play? I'm sure "genius" Todd Haley has dozens and dozens of those in his wonderful offense), why couldn't Tomlin just tell the truth?
As I mentioned in yesterday's recap, there was a minor scrum among Steelers Nation during the game as a #fireTomlin has tag started making the rounds. Later that evening, local sportscaster John Fedko went on Triblive Radio (who once offered me a weekly interview segment but reneged so I won't link to them) and actually verbalized the notion that Tomlin should be fired. Other Pittsburgh sports personalities have been more muted in their criticism but there is definitely a growing backlash against Tomlin amongst both reporters and fans. And he has nobody to blame but himself.
I'm not a johnny-come-lately to criticizing Tomlin. In fact when I wrote for NicePickCowher many years ago, I was the first person online or anywhere to point out his press conferences were utter jokes. All he does is stand there and spout off a bunch of nonsense he thinks sounds good, very little of which is actually true. I was also the first to float the idea that Tomlin won with "Cowher's team," an idea which all of a sudden I hear people picking up on only four years after I first floated it.
Look, I don't hate Mike Tomlin. I don't even think he should be fired (yet). But at the same time, I think he's pulled the wool over a lot of people's eyes and slowly that facade is beginning to fade. He lies constantly and about everything. He lies about injuries, he lies about line-up changes, he lies about strategy. And his in-game management is absolutely atrocious to the point even Bill Simmons has remarked that he'd never bet on Tomlin in a close game. In just the past month alone, Byron Leftwich was left in a game where he was obviously hurt, the running back situation was botched so badly none of them had any confidence and after Sunday's loss various Steelers from Ryan Clark to Bret Keisel admitted they felt the team "wasn't ready to play."
Weren't ready to play? How does any team in the middle of a playoff race not come into a very winnable game ready to play? That's on the head coach. A head coach who inherited a team only one season removed from a Super Bowl championship, by the way. If the team hopes to win another before the window closes, Tomlin needs to start doing a much better job before it's too late. Or else he risks joining George Seifert and Barry Switzer in head coaching infamy.