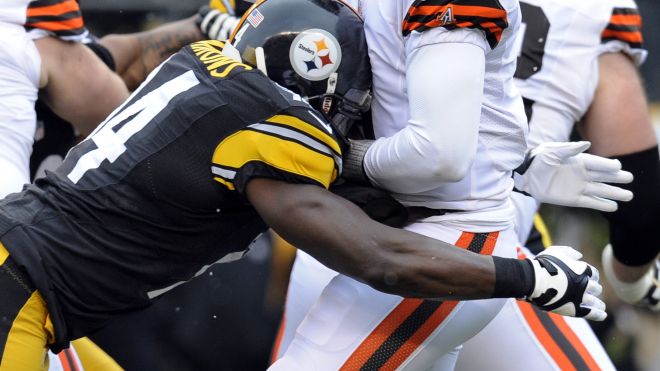 And never brought to mind?
The more quickly the Pittsburgh Steelers 24-10 victory over the Cleveland Browns is forgotten the better. I have to confess, I lost interest in this game about ten minutes in and started flipping to Red Zone in order to watch games that actually mattered. Considering nearly 15,000 fans attended yesterday's season finale at Heinz Field disguised as empty seats, I have to think I'm not alone in my crippling apathy.
Pittsburgh is a football town. I would be insane to deny it. At the same time, Pittsburgh also backs winners. Oh, we still support our Pirates or Penguins when they fail but not nearly with the same fervor or in the same numbers as we do teams that win. The Steelers first meaningless game in six years and 15,000 people opted to skip it. The Rooney family, and by that I mean bungling meddler Art II, better not take this town's support for granted or we'll be seeing a lot more Pitt size crowds in the near future.
As I said, I didn't watch every minute of this titanic confrontation but I'll give some thoughts on the bits and pieces I did see. The reason my will was broken early on had much to do with a mind-numbing first quarter which saw Todd Haley's stunningly inept offense piss around while rookie nobody Thad Lewis drove 70 yards on Dick LeBeau's top ranked defense. The Browns' drive came to a screeching halt thanks to a Troy Polamalu interception.
Well, at least Troy made one play this season.
Speaking of finally making a play, Ziggy Hood finally made an impact himself. Unfortunately, it came in the form of taking out the knee of teammate Brett Keisel, who will undergo an MRI tomorrow due to fears he may have injured his MCL (which may or may not require surgery). On the plus side, with Diesel out, Mike Tomlin was forced to play Cam Heyward. Young guys on defense, what a crazy concept!
The defensive standouts, if you can call them that considering they were playing against a guy who has been cut from three different teams' practice squads, were Lawrence Timmons and Cortez Allen. Timmons put the cherry on top of his break out season with two sacks and a fumble recovery. It only took 5 years but LT is finally playing like a mid first round draft pick. So I guess we should expect next year's first to finally make an impact some time around 2018.
Meanwhile, Allen continues to make me look like a genius for tabbing him as a future starter – and a high-level one at that – in the secondary. Last week he caused three turnovers (2 INTs and forced fumble), this week he added another two FFs, one of which he recovered himself. Five turnovers in two weeks. That's nearly more than the rest of the defense combined. Keenan Lewis played well this year but I don't see how they can possibly limit Allen to a nickel role next year.
Lewis, by the way, is going to be a free agent at season's end. The balky knee which limited him the past month acted up so if this was his last appearance in the Black and Gold it was a brief one. I imagine the team will try to keep him although they'd be foolish to overpay for a guy destined to be a #3 corner. Lewis's probable exit will likely be part of a roster purge that made last year's Veteran Armageddon look tame by comparison.
Casey Hampton was replaced for almost the entire second half by Steve McClendon. McClendon even got some good pressure on young Thaddeus begging the question why he sat on the bench for 16 weeks while all the old immobile guys stood around like their feet were stuck in mud. Even though the team doesn't have a legit heir apparent at NT, it seems certain we'll go into next year with McClendon and (provided he doesn't kill anybody over the summer) Alameda Ta'amu.
The linebacking corps will also be undergoing a bit of an overhaul. Reports on NFL.com are that yesterday's game was James Harrison's swan song in Pittsburgh. If so, Deebo made sure to get one final late hit cheap shot in for old time's sake. Guess he'll have to sit out his first regular season game as a Dolphin due to suspension. Ironically, that hit came on the very play where Thad Lewis threw his first (and only) career TD pass. While it looks like Jason Worilds will step in opposite the chronically injured LaMarr Woodley, the Steelers will have to use the draft or *gasp* free agency to find another ILB to pair with Timmons when they part ways with veteran Larry Foote.
Ben Roethlisberger – making sure to clutch his ribs in crippling agony after every throw so we knew the Big Drama Queen was TOUGH~! – played to the bitter end. Ben, who threw for only 134 yards but 3 TDs, managed to put together a couple nice drives in the fourth quarter, including his 23rd and final TD pass of the season to Plaxico Burress. Eight years, three Super Bowl championships and a prison stint later, the season ends with Big Ben to Plax for a TD. Fitting.
The only drawback to yesterday's win (besides Keisel and Kelvin Beachum getting hurt. Since when did playing Right Tackle for the Steelers become the equivalent of wearing a red shirt on the USS Enterprise?) was the victory dropped the Steelers all the way to the 17th overall pick in the 2013 draft. That's still plenty high to get a quality player, one who may be counted on to contribute a lot faster than rookies have in recent years. Whoever they take, this is going to be among the most important off-seasons in Steelers history.
Will Art II admit the Todd Haley experiment has been an utter failure? Or will Boss Todd be given another year to electrify us with his vast array of bubble screens and end arounds? Who will replace the aforementioned losses on defense? Likewise, what will the team do with Rashard Mendenhall and Mike Wallace? Assuming both are gone, do they stick with what they got or introduce some fresh faces to the mix? Remember, every back except Chris Rainey is a free agent along with Manny Sanders. And for the love of pete, will they please fire special teams bungler Amos Jones? He's so bad, the name "Bobby April" was actually trending locally when the team failed yet again to correctly defend a fake punt.
On a personal note, I want to thank my readers for allowing me to vent this season. It's been a maddening year but being able to express my frustrations here certainly does my blood pressure a world of good. Even though you guys seldom comment, I appreciate all of you reading, from the old timers who've been with me since NPC to the newbies who stumbled upon this blog this season. I'll still be updating whenever Steeler news dictates (and as I've said, we should be making a lot of moves this off-season) although not on a regular schedule. I hope you check in from time to time.
Thanks for reading. Hope you all enjoy a very happy New Year. And Let's Go Steelers in 2013!