Jarvis Jones
OLB Georgia
6'2  248
SacManJones_29
The heir to all-time Pittsburgh Steelers great Aaron Smith's #91 has already been discussed in greater detail here. Cliff Notes version: a pure pass rusher who gets off the ball quick and relentlessly hunts down quarterbacks. After leading the nation in sacks against elite SEC competition was widely expected to be a top ten pick in the 2013 NFL Draft. Two red flags emerged during the evaluation process; a worrisome medical history and a horrible 40 time (4.9). The spinal stenosis (narrowing of the spine) led him to transfer to Georgia after USC doctors wouldn't clear him to play. Played last season without incident and Steelers said they were comfortable with the medical reports they received. The speed issue raises questions whether he'll ever be a three down linebacker. Will definitely need to improve in pass coverage and work at beating big strong NFL offensive lineman with something other than his quickness off the edge if he hopes to truly replace James Harrison as a mainstay at outside linebacker.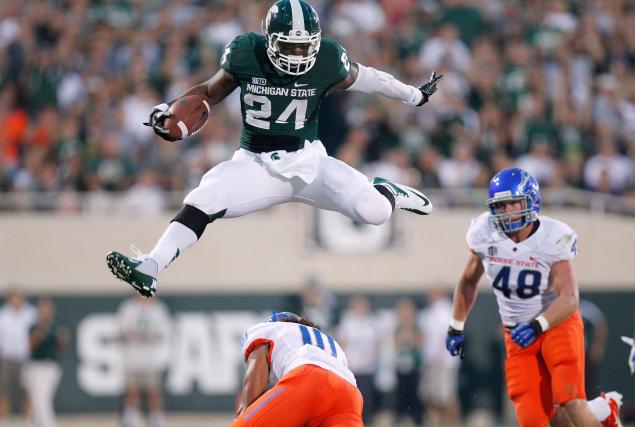 Le'Veon Bell
RB Michigan State
6'1  230
l_bell24
Listed at 230 but dropped 15 pounds before the Combine in hopes of improving his 40 time. It didn't work as he still ran a disappointing 4.6. The lack of breakaway speed and one move and go running style will prevent him from being a big play threat. Has the size, strength, and ability to break tackles to potentially be a pretty good power back, though. Coach Todd Haley also raved about his hands, calling him a "three down player." Former Rams All-Pro Steven Jackson said Bell was the college player who most reminded him of himself and, really, that's basically the ideal scenario for what the Steelers hope he develops into. Worst case, he's another Michael Turner, a productive downhill runner who doesn't wow anybody but gets the job done.
Markus Wheaton
WR Oregon State
5'11  189
twheat002
Another receiver in the AB/Manny Sanders mold. A smallish guy with good speed and good hands who runs good routes. Lack of elite speed (4.45 40) means he'll be another YAC receiver rather than the type of field stretching playmaker we lost in Mike Wallace. Isn't afraid to go over the middle or play in traffic so he should see time in the slot almost immediately. Has little experience returning kicks so probably won't contribute in that area. Struggled against bigger physical corners. Athletic guy who gets open and makes things happen with the ball in his hands who should be a good slot receiver but will need to prove he can beat a jam if he hopes to move outside and move from a #3 to a #2.

Shamarko Thomas
S Syracuse
5'9  213
shamarko21ya
The Steelers must've really liked this guy since they uncharacteristically traded up, sending Cleveland next year's 3rd rounder for their early 4th. Extremely aggressive safety who runs around and hits people with reckless abandon. Plays like a linebacker, which he was at one point in college. Was also a corner, owing to his top end speed (4.42 40) for the position. Big drawbacks are lack of ideal size for covering taller heavier TEs and a tendency to over-pursue leading to missed tackles or blown coverages. A very good athlete who needs to refine his skills so that he's consistently in position to make plays. Given the loss of both Will Allen and Ryan Mundy, Thomas may be counted on to step up as a back-up safety this season.
Landry Jones
QB Oklahoma
6'4  225
LandryJones12
A quarterback! This should make our old pal Hennessey very happy. I've already seen Steeler fans tabbing Jones as Big Ben's heir apparent which is crazy talk. Does the name Dennis Dixon ring any bells? Both were highly touted college prospects who ended up late round selections after less than stellar senior seasons. Although to be fair, there is were most comparisons end. Jones is a big pocket passer with a cannon arm which enables him to make any throw on the field. Once seen as a potential 2nd round starter, his lack of athleticism probably dropped him a round or two. While he can slide around the pocket, he's not particularly nimble, which leaves him susceptible to pressure. Worse yet, Jones has a tendency to panic when the pocket starts breaking down, leading to his taking a sack or simply throwing it up for grabs. Sounds like a great fit for our offensive line, eh? If the Steelers can curb his reckless tendencies and he can develop more poise under fire, Jones certainly has passing ability equal to nearly any starter in the NFL. More realistically, though, is that he's just the latest in the Black and Gold's never-ending quest to develop a quality back-up to play the 2-3 games Ben misses every season with one of his life-threatening injuries.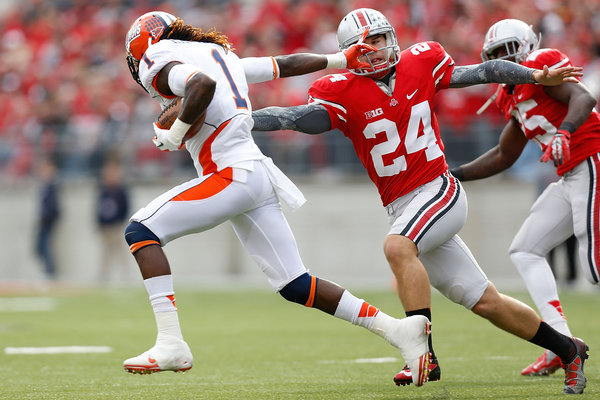 Terry Hawthorne
CB Illinois
6'0  195
TerryHawthorne1
A tall, physical corner with top flight speed (4.44 40). A converted wide receiver, still possesses above average ball skills. In fact, perhaps his greatest strength is his aggressiveness in going after the football to either break up the pass or go for the interception. Has the talent to have gone a round or two higher except for being extremely raw. At times looks like a potential starting corner, at others looks like a wide out recently asked to play the position. The lack of polish and technique gets him in trouble against players he should otherwise dominate. If DB Coach Carnell Lake (perhaps the best position coach currently on staff) can coach him up similarly to the work he's done with our other young corners, Hawthorne could open some eyes a year or two down the line.
Justin Brown
WR Oklahoma
6'3  207
justinbrown19
Stop me if you've heard this song before: the Steelers are trying to recreate their late round wide receiver magic by finding Ben a….*drum roll* big receiver! Brown enjoyed his best season as a senior at Oklahoma after transferring from Penn State in the wake of the Jerry Sandusky debacle. He's got good hands and plays physical, using his big body break tackles or shield defenders. Brown does lack speed and athleticism thus limiting what he can do with the ball after he catches it. He also doesn't create a lot of separation which will be an issue in the pros where the windows are already a lot tighter. Could possibly emerge as a red zone threat but his limitations in the open field will likely prevent him from ever becoming an every down wide receiver.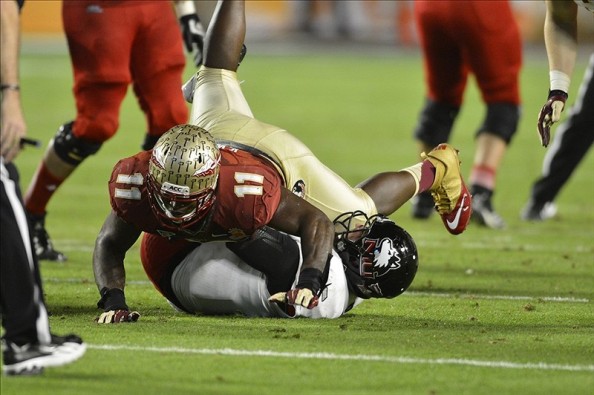 Vince Williams
ILB Florida State
6'1  233
JohnnyBrovo11
An inside linebacker! From Florida State! The Steelers are nothing if not consistent. A late riser who moved on to draft boards with an excellent showing at the Senior Bowl after a fairly disappointing college career. Started 12 games as a true freshman then lost a year due to a back injury before playing through a cracked tibia as a senior. Fiery, aggressive player who shows a real love for running up and sticking people. Not particularly fast nor athletic means he'll probably never be  a three down linebacker. However, good upper body strength and reliable tackling point to a potential run stuffer in the middle. Instincts and football IQ can make up for gaps in pure athletic ability so if Williams improves in those areas, he could emerge as a quality back-up. If not, well, there's always room for a gunner on special teams.
Nick Williams
DE Samford
6'5  309
NickWilliams_94
Only played one year of high school football which explains how he ended up at football powerhouse Samford. Needless to say, he's very raw although he did improve markedly every year of his college career. Not the biggest defensive lineman but shows unusual quickness and athleticism for the position. A definite project who the Steelers coaches probably hope they can mold into another Brett Keisel. Start working on that beard, Nick.