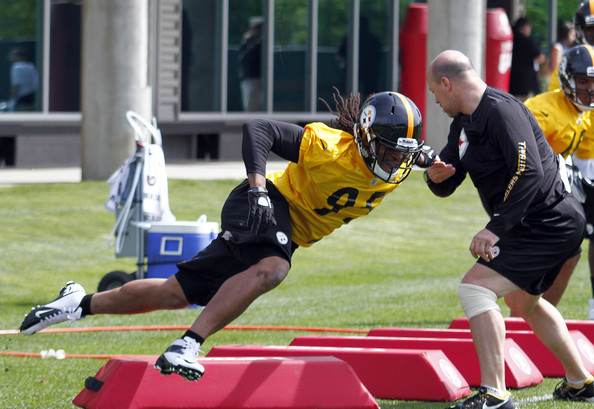 Keep repeating: "It's only the preseason. It's only the preseason."
The Pittsburgh Steelers played their second preseason game last night, losing to the Washington Redskins 24-13. The final score isn't as important as how the team performed. In their first preseason game, the Black and Gold looked sloppy and undisciplined. If nothing else, I was hoping to see the team's level of play improve across the board.
Talk about one step forward, two steps back. Where to begin with last night's debacle?
In my game preview, I asked the offensive line to show us something. Well, they showed us something all right… They showed us the names on the backs of their jerseys as they were getting turned around by pass rushers repeatedly blowing past them. I'm officially worried about the Steelers offensive line again.
I've alluded to people at camp reporting how horrible Marcus Gilbert has been. There had to be something to those rumors because he lost the LT job to Mike Adams before the first preseason game. After last night's performance, it'll be a miracle if Gilbert doesn't get bounced from starting RT, as well. He got beat on a screen pass to Jonathan Dwyer which ended up being intercepted in the backfield (?) and run back for a touchdown. Later, Gilbert would whiff on a linebacker and allow a sack-fumble on Bruce Gradkowski.
While Gilbert may have been the rottenest egg, there was plenty of stank to go around. Even All-Pro center Maurkice Pouncey got into the act, getting owned by nose tackle Barry Cofield all night long. Adams took a couple bad penalties as did David DeCastro. And don't get me started on the dumpster fire that are our backups. Guy Whimper should not only be cut, they shouldn't even let him on the team bus. Just leave him there in D.C. He's useless. Center John Malecki still doesn't seem to grasp that after snapping the ball, he's supposed to look up and block somebody.
Between Ben and Bruce running for their lives on nearly every snap, the missed blocks, and the penalties, this was an absolutely abysmal performance by the offensive line. Jack Bicknell has a lot of work to do and a very short time to do it.
Elsewhere, running back Le'Veon Bell, who continues to rise on the depth chart while his fingers continue to prune up from spending every afternoon in the whirlpool tub, finally saw game action. He carried the ball four times for 9 yards before hobbling off to the sideline. A few minutes later, his shoe was off and his day was over with what the team is optimistically calling a "right foot sprain." He's scheduled for an MRI tomorrow which doesn't sound good.
Regardless of the severity of his injury, there's no way the Steelers can realistically count on him to be their featured back. Bell has already missed nearly two weeks of practice with a sore left knee, now he's sporting an injured right foot. All after a grand total of FOUR carries. I'm not saying give up on the guy but assuming he'll be ready to be a 20-25 carry workhorse back in a little over two weeks when he's struggling to get through the preseason is ridiculous.
The good news is Jonathan Dwyer stepped in to take his place and looked pretty damn good. He showed good speed, hit the hole with a nice burst and ran hard, averaging a nifty 5 yards per carry thanks to several big gainers. The bad news is he would also fumble the ball, one of  Dwyer's big weaknesses and one of Mike Tomlin's big no-nos. With Isaac Redman sitting out due to a pinched nerve and Bell's ongoing injury issues, Dwyer may be our starting back by default.
There were precious few positives to take away from last night. Ben made a few crazy sandlot style plays where he scrambled away from danger and connected on a big pass, the most notable of which was a 26 yarder to David Paulson. Paulson looks to be a fine pass-catching TE. The team also took a long look at TE Jamie McCoy, who made a couple decent catches. Landry Jones continues to look lost in a pro-style offense (he should've had at least three balls picked off) but he did show off his big arm on a 45 yard bomb to Markus Wheaton. Wheaton doesn't have Mike Wallace speed although he does seem to play faster than his Combine numbers would indicate.
Defensively, William Gay was beat for another TD, albeit on a great catch by Leonard Hankerson. The Steelers forced four turnovers, one each by young safeties Da'mon Cromartie-Smith (INT) and Shamarko Thomas (Fumble).  I think the safety position is in good hands despite the departure of Ryan Mundy and Will Allen. Another fumble was caused by Jarvis Jones, who continues to look like an absolute beast.  Reporters will repeat the official team spiel about him understanding the D and blah blah but the guy makes plays. If he doesn't start from day one, they're insane.
Okay, nobody (other than Bell) got hurt so I suppose last night's game wasn't a complete disaster. However, they also gave up four sacks, had three turnovers and committed 8 penalties for 95 yards. Yes, it's only the preseason but these were the exact same things that plagued them last year during the regular season. Let's hope history reverses itself or else we're in for another long year.