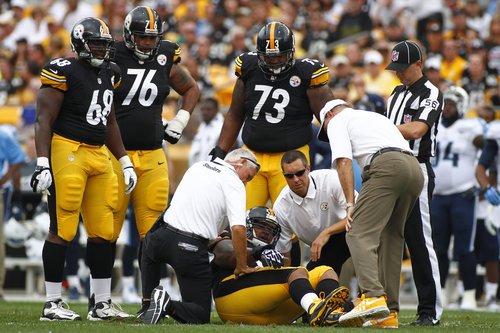 I wish that headline was a joke.
The words "disastrous start" don't even begin to describe the first game of the season for the Pittsburgh Steelers. Sure, every team has to battle through injuries to key personnel. However, I'd be hard pressed to recall any team losing not one, not two, but THREE starters in week one.
Obviously the biggest loss is All-Pro center Maurkice Pouncey. I must've mentioned six or seven times during the preseason how every year the Steelers eagerly unveil their new look offensive line and how every year members of that line immediately start dropping like flies. This year they managed to make it all the way through OTAs, through the preseason, and eight snaps into the regular season before losing somebody. PROGRESS!
Pouncey also suffered the worst injury, tearing both his MCL and ACL ligaments. The galling part of the injury was it occured as the result of friendly fire – guard David DeCastro was trying to cut block the man Pouncey was blocking and ended up taking his own man out instead. The moronic cheerleaders in the local media were all "Let's wait to hear the official prognosis…"
Here's the official prognosis: THE STEELERS ARE F*CKED.
Pouncey missed three weeks with a sprained ankle. He's not playing with torn ligaments. See next year, Maurkice. At least he'll have plenty of free time to bring his good buddy Aaron Hernandez cartons of cigarettes while he's in jail.
Also out for the year is inside linebacker Larry Foote, who tore his biceps making a tackle. Not that I blame DeCastro for his disastrous chop block but between that and Foote's injury, I'm starting to think the Steelers royally goofed by passing on Dont'a Hightower.
The final man in this Trifecta of Suck is running back LaRod Stephens-Howling. LSH is an itty bitty guy (5'7 185) so when the Steelers decided to use him as the primary back in addition to his duties as a third down back and kick returner, they were just asking for trouble. Sure enough after getting dragged down following a short dump pass, LSH came up limping before ultimately collapsing in a heap. His ACL also snapped not unlike all the Steelers hopes and dreams.
Kelvin Beachum stepped into replace Pouncey at center, likely because newly signed center Cody Wallace just got here and wasn't even dressed for the game. Beachum didn't embarrass himself James Harrison-style but he's clearly not a center. If Wallace can get up to speed, I think the team would be better served starting him. Especially with Beachum needed as a sixth tackle/blocking TE/eventual replacement for Marcus Gilbert.
Kion Wilson will replace Foote at ILB. If you read my roster breakdown, I mentioned the Steelers likely kept the unimpressive Wilson because  sixth-rounder Vince Williams was their only other ILB and they wanted to avoid a rookie being their top back-up. Williams had an excellent preseason, though, which begs the question of whether the Steelers would be better served to see what he's got.
Felix Jones can do many of the same things as Stephens-Howling so he'll probably slide into his third down role/kickoff return role. Until Le'Veon Bell returns – which we all hope is sooner rather than later – the team's backfield is down to only Jones and useless Isaac Redman. People have mentioned Jonathan Dwyer but that bridge is not only burned, it's been tore down and used for siding. Since the Steelers seem content to use a two-headed running back rotation, I imagine they'll  promote mediocre Alvester Alexander off the practice squad to sit on the bench and serve as emergency insurance to iLex.
Get well, soon Le'Veon. Very very soon.