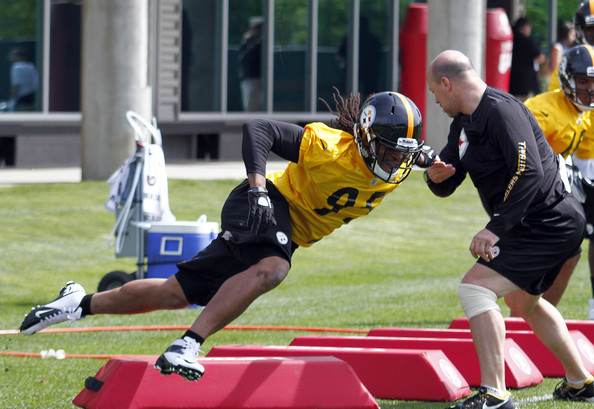 I've been hard on the Pittsburgh Steelers the past few days. So today I'll try my best to be positive. Luckily, there are finally signs of intelligent life emanating from their moronic coaching staff. Oops, does that count as negativity? Anyway, rookie linebacker Jarvis Jones is slated to start at outside linebacker Monday Night against the Bengals.
In my game recap – and I don't blame anybody for never wanting to relive that rancid dumpster fire – I credited the defense for keeping the team in the game. I also pointed out while they did a good job of limiting damage, they once still aren't changing the game like the great Steelers defenses of the past. One sack and zero turnovers simply won't get it done.
One guy who did get it done was our first round pick. Jones introduced himself to Steeler Nation by pulling a Jadeveon Clowney on Chris Johnson. Then he promptly ran off the field because Mike Tomlin and Dick LeBeau feel Jason Worilds has a better grasp of the defense. To which I say, screw Jason Worilds. Just because he knows where to go doesn't make him capable of doing something once he gets there.
Jones had more impact in one play than Worilds has made in three years. Their final snap counts weren't horribly lopsided – Jones had 30 snaps, Worilds saw 46. The problem is you only platoon guys when they're both good at something. Worilds isn't good at anything. He doesn't pressure the QB, he doesn't create turnovers, and he's not particularly gifted in coverage. He was starting simply because he understood which squiggly line his X is supposed to follow on LeBeau's chalkboard.
That's not a good enough reason.
If the Steelers were still loaded with talented playmakers, you could live with a solid but unspectacular starter. They aren't. Jones already looks like a beast with who knows how much potential upside. The more snaps he sees, the sooner that potential will be realized. Even if Jones gets 15-20 more snaps a game, those are 15-20 more chances for something awesome to happen.
And when you're talking about a defense desperately searching for their next great playmaker, those are chances well-spent.