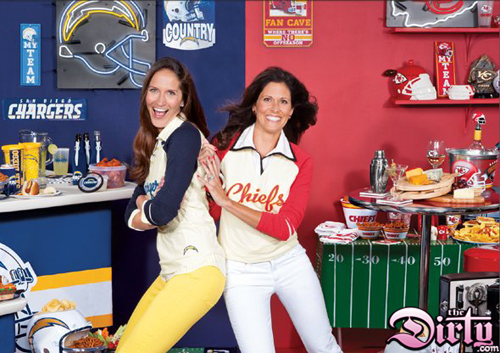 I suppose this is a step in the right direction…
Over the course of my blogging career, I've had occasion to witness some things I'd prefer to permanently scrub from memory. First, there was the groupie website where some chick saw fit to post a pic of Santonio Holmes in the shower, his giant horse dick right there for the world to see. Then there was Milledgeville and the accounts of Ben Roethlisberger's "grey penis." Not to mention the immortal crime scene photos of Big Ben's baby batter splattered all over the side of a dingy bathroom stall.
Why us? Why can't the Pittsburgh Steelers have a decent sex scandal? Something like Rob Gronkowski banging a super-hot porn star or a sexy slutty Bengals cheerleader deflowering the luckiest dude in his high school?
Well, ask and we shall receive. Sort of.
A tawdry internet site called The Dirty, who helped expose – literally – the Anthony Weiner sexting scandal, recently published photos allegedly showing offensive coordinator Todd Haley's MILFtastic wife, Chrissy, in the buff. Now, the pictures, which you can view by clicking here (NSFW) don't show a face so this could all be a scam. After all, Steeler fans do seem to have some sort of vendetta against Haley. After the infamous Napkin Incident failed to register, I can see some yinzers cooking up a scheme to besmirch Mrs. Haley's good name.
At the same time, I assume this site has some sort of fact checking in place or else they better have hella good lawyers. Plus, it's not like this hasn't happened before. Rex Ryan admitted to uploading foot fetish videos of his wife to swingers websites and got caught. I haven't heard these alleged rumors of Chrissy Haley being a cougar on the prowl – and remember, I was the guy who posted about Ben's shitty reputation around town long before Sports Illustrated decided to do a cover story about it – although I don't exactly run in swingers circles.
If the story is true, it's not really a big deal. Even with the fake tits, she's got a bangin' body and great little ass which is probably neglected by a hubby busy working 14-16 hour days. Plus everybody knows women don't reach their sexual peak until their early forties. After spending three years in the cornfed wasteland that is Kansas City, she's probably like a kid in a candy store in a college town like The 'Burgh. And, hey, at least for once I get to look at some "scandalous" photos and not feel like poking my eyes out.
I'll save that for watching her husband's offense on Sunday.