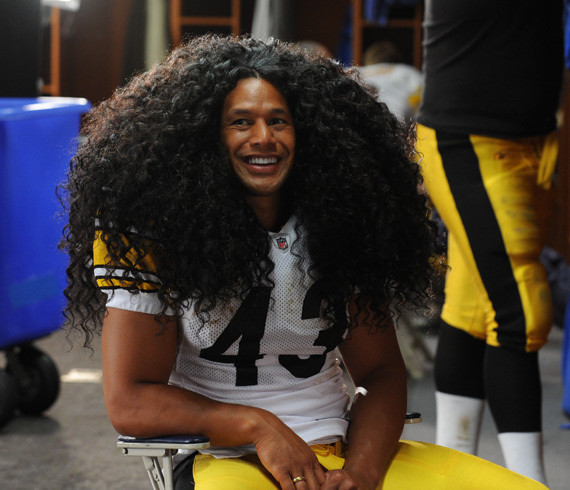 Here's a happy story to take a break from all the talk about whether the Pittsburgh Steelers should – or would – trade Ben Roethlisberger. Yesterday was Veteran's Day. I'm sure many of you knew that because you didn't have to go to work or school and instead spent the day on your computer searching for porn and not commenting on my blog. Scanning my site stats, I receive a number of hits from overseas so unless there is secretively a sect of Steeler Nation in Saudi Arabia, I can only assume some of you servicemen (and women) log in here from time to time.
Let me join others in (belatedly) thanking you for your service.
One person who went all-out for our veterans yesterday was future Hall of Fame safety Troy Polamalu. When I say "Troy," I'm sure one of two images spring to mind. First, him launching himself with reckless abandon over the line of scrimmage. And second, his signature flowing mane that's since become immortalized in a series of Head N' Shoulders commercials.
Yesterday at Heinz Field, in an event cleverly dubbed "The Mane Event," Troy had a single 3 inch lock of hair cut from his tresses to bring awaremenss to the work done by the Veterans of Foreign Wars and his own Harry Panos Fund for Veterans (Mr. Panos, a veteran himself, was the father of Troy's wife, Theodora). Now that may sound like nothing to you or I but Troy's hair is more than a marketing tool to him. It's a deeply held part of his identity and heritage to the point his children never cut their hair either. Troy's hair is so important to him that this was the first time in a decade that scissors have touched his head.
Troy isn't the first Steeler to use a haircut as a charity event. He probably got the idea from hirsute lineman Brett Keisel. The Diesel hosts an annual event at season's end that's been dubbed "Shear Da Beard" where he shaves his extremely impressive soup strainer off for charity. His beard has become something of it's own mini-industry as his website is devoted to all sorts of Da Beard related merchandise, with profits from some of the items being earmarked for charity.
I only hope this doesn't mean Troy is gonna play badly on Sunday. Other than the absolute debacle in New England, this has been something of a rebound year for the one time Defensive Player of The Year. A repeat of the Patriots fiasco and we could be in for another long afternoon. After all, we know what happened to Samson when he lost some of his locks.