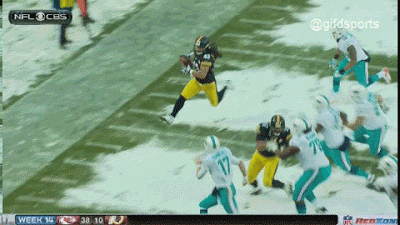 I made the mistake of tuning into the Monday Night Football countdown show last night. Usually I do my best to avoid Stabby McStabberson and the rest of the merry pranksters who populate the Four Letter. However, I happened to tune in just in time to hear them discuss the Pittsburgh Steelers season ending loss to the Miami Dolphins. As usual, they only bother discussing the Black and Gold when they have something negative to say.
Anyway, what surprised me was the focus of their discussion. I expected them to touch on Ben Roethlisberger's seething hatred of Todd Haley – which was evidently on full display in the locker room after the game – and they did mention it. However, what I didn't expect was much of their discussion focusing on Pro Bowl safety and future Hall of Famer Troy Polamalu. The goofs on the panel placed a great deal of the blame for the defeat on Troy, even speculating this may be his final season in Pittsburgh.
Which at first seemed absurd but after thinking it over, is this the end of the line for Troy Polamalu?
Through the first couple months of the season, I routinely remarked how this was a great comeback season for our wild-haired safety. While he wasn't making the splash plays he once did, Troy was playing at a level he hadn't approached in several years. Only two weeks ago, Troy was named AFC Defensive Player of the Week for causing two fumbles and recovering another against the hapless Browns. With his Pick Six against the Dolphins, he's still one of the few guys on the D making splash plays.
At the same time, Troy has basically given up a big play for every one he's made. Going back to the Patriots fiasco, he forced the Steelers only turnover but he also was the one out of position for several of New England's big plays. Against Miami, he missed an easy INT and at least two important tackles that could have swung the game in our favor. The final missed tackle – where he later admitted he tried to strip the ball instead of going for the stop – led to the go-ahead touchdown by Charles Clay.
With the shocking decline of Ike Taylor, Troy is probably still our best secondary player. At the same time, he's also our most highly paid, scheduled to make around $10 million next season. And unlike Ike, who thanks to alleged "genius" Omar Khan has restructured to the point cutting him next year makes no sense, Troy can be cut at any time with zero dead money counting against the cap.
Would the Steelers part ways with their iconic safety? He's still a very good player but he's not the Troy of old. For him to be effective from this point forward, he's gotta start playing more like a regular safety. They can still move him around and let him do some of the things he's known for but it can't be done all the time. And if Troy is only being 50% of Troy, he shouldn't be paid for 100%.
The Steelers desperately need cap space. Jason Worilds will be a free agent after this season and while drafting Jarvis Jones and that horrible long term extension to fatass LaMarr Woodley may preclude re-signing him, it'd really suck to lose him. They already lost one promising young player in CB Keenan Lewis, who is playing very well for the New Orleans Saints while Cortez Allen blows coverages and William Gay provides comfy 15 yard cushions. Winning teams build with youth and, frankly, the Steelers with the oldest defense in the league cannot afford to put off rebuilding any longer.
I'd certainly try to keep Troy over Ike, Clark, or even Woodley (if the team could somehow find a sucker willing to take him off our hands). Shamarko Thomas needs to start sooner rather than later but I'd feel better with him replacing Clark rather than Troy. At the same time, I'd only bring Troy back if he was willing to do what Hines Ward and Jerome Bettis did before him and play for a more reasonable contract. Hopefully he was paying attention to his long time Evil Doppelganger Ed Reed, who priced himself off the Ravens and ended up getting cut after bombing with the Texans.
A player as proud as Troy deserves a better ending to his storied career than bouncing around the league playing for whomever will take him. And the Steelers owe it to themselves and their fans to do everything possible to make sure Troy gets the eventual send-off he so rightly deserves. Of course as we've seen with Big Snack, James Farrior, Aaron Smith, and James Harrison, when it comes to getting on with your life's work, there's often no nice way to go about it.