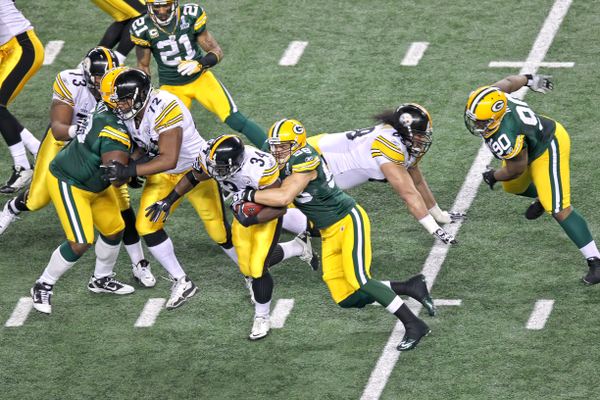 If at first you don't succeed…
Pittsburgh West once again lived up to their nickname by signing running back Jonathan Dwyer on Wednesday. Dwyer won't start for the Arizona Cardinals – Andre Ellington took hold of the job last season after the signing of uber-bust Rashard Mendenhall predictably blew up in Bruce Arians' face. Mendenhall recently announced his retirement at 26 years of age which shocked those in the media not familiar with what a colossal nutcase that soft baby really is. Hopefully, Mendy can find some joy traveling the world like Caine in Kung-Fu or whatever the hell he plans to do with all that money he stole from the Rooneys.
Dwyer was the first ex member of the Pittsburgh Steelers to sign elsewhere but he would not be the last. Over the past 24 hours, two more longtime Steelers found employment with new teams. Recently cut LaMarr Woodley didn't remain on the market long, signing  a two year deal with the Oakland Raiders. He won't win many games out there although he's almost guaranteed of beating the Steelers should the they play in the near future. Defensive end Ziggy Hood also found work with one of the league's bottom-feeders, joining the Jacksonville Jaguars.
The Steelers countered these losses by a trio of re-signings aimed to bolster their depth. Safety Will Allen, long-snapper Greg Warren, and most notably offensive lineman Cody Wallace all reached deals this past week. Wallace's contract, a three year deal, is probably the most notable as it marks quite the career upswing for the journeyman. Drafted way back in 2008, Wallace bounced around the league with a handful of different teams, mostly landing on their practice squads. That's where he was with the Steelers when the Great Offensive Line Fiasco of 2013 saw us lose starter after starter. He became the team's third starting center after Fernando Velasco went down and actually acquitted himself quite well.
While Wallace's re-signing provides them with much-needed line depth, the rest of the team still needs a lot of work. I liked Dwyer but after Mike Tomlin and company jerked him around – cutting him in the preseason so they could start the beyond useless Isaac Redman, demoting him to third string behind washed up bums like Felix Jones – I can't blame him for seeking refuge elsewhere. His departure does leave a gaping hole on the depth chart. In fact, if you're in the mood for a good horror show, take a look at the Black and Gold's updated depth chart.
Perhaps the Steelers haven't heard but football is a violent game where guys frequently get hurt. It kinda helps to have more than one player capable of playing at each position. As things currently stand, they're distressingly thin at three positions at the very least. They have one running back on the roster, Le'Veon Bell. They have two receivers, Markus Wheaton and Antonio Brown. Okay, three if you count Derek Moye but he's a slow-ass white boy so screw him. Their current listed starter at right defensive end is Brian Arnfelt, who spent all of last year on the practice squad.
Bell looks to be a budding star but he can't take every offensive snap. Between the draft and free agency, they need to bring in at least two more backs. Wheaton showed flashes at times as a rookie although I'm not convinced he should be handed the slot/#3 job, let alone be named a starter. We need to find two more WR options with at least one being starter quality. As for the line, the Steelers have a couple ways they can go there. They can sign a young end suited to the 3-4 to line up opposite Cam Heyward. Or they can address another major problem from last season – ie the fact Steve McClendon was atrocious at nose tackle – and find somebody to play nose with McClendon sliding over to end.
When free agency started on Tuesday, I wrote the Steeler Way is to not go after "name" free agents or to get involved in bidding wars. They uncharacteristically signed Mike Mitchell on opening day although that appears to have happened with minimal fuss. Now that the smoke has cleared and most of the big fish have found new ponds, the Steelers are back in their element of sifting through third tier free agents hoping to find an undiscovered gem. If they expect to escape this drought of playoff-less seasons, let's hope they pick a winner.