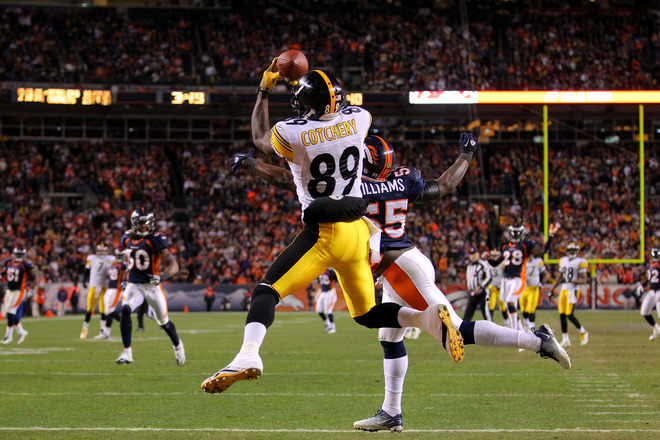 Eight.
That's the total number of receptions made by wide receivers not named Antonio Brown remaining on the Pittsburgh Steelers roster. Maybe – I stress the word maybe – they improved their defense this off-season. They for damn sure didn't improve their offense. In fact, it's hard to look at the current depth chart and argue it's gotten anything but significantly worse.
Jerricho Cotchery is the latest to depart, reportedly agreeing to a two year $6 million deal with the Carolina Panthers. The Cotch Rocket had a career year in 2013,  catching 45 passes for 602 yards and a team leading 10 touchdowns. Unlike Mike Wallace and Emmanuel Sanders, the Black and Gold actually wanted to re-sign Cotchery, who provided a dependable veteran presence to the passing game. With the Steelers down to only $2 million in salary cap space – they have to wait until June 1st for nearly $8 million of LaMarr Woodley's money to clear – it appears Cotchery wasn't willing to wait and see what the Steelers planned to offer.
AB and running back Le'Veon Bell are the last men standing from an offense that was the team's lone strength last season. Bell currently has no back up although the Steelers have talked with former Jaguar Maurice Jones-Drew. The fact MJD left without an offer leads me to believe we can't afford to sign anybody unless they're willing to play for peanuts. Meanwhile, the receiving corps is nearly as thin with Markus Wheaton (6 receptions as a rookie) and Derek Moye (2 rec) the only other wide outs who registered a catch in 2013. The team has kicked the tires on former Saint Lance Moore but – say it with me – he left without an offer after visiting earlier in the week.
The Steelers did receive some good news when it was announced that the NFL wasn't going to dock them a draft pick stemming from Mike Tomlin's sideline debacle in Baltimore on Thanksgiving night. In addition to the heavy fine levied against Tomlin, there was rumor Roger Goodell would strip the team of a 2014 draft pick. Thankfully, the Ginger Dictator did not follow through on that threat. I guess ordering his referees to conspire to keep the Steelers from making the playoffs was punishment enough.
When your roster has more holes than my lucky socks, you can certainly use all the draft picks you can get. Kevin Colbert already gave away this year's 3rd rounder when he moved up to take Shamarko Thomas in last year's draft. That loss will be somewhat mitigated after the Steelers receive two compensation picks for losing Mike Wallace and Keenan Lewis to free agency. With Markus Wheaton totally unproven and Derek Moye total garbage, I imagine the Steelers will be looking to take at least two wide receivers this year – one early and one in the mid-to-late rounds.
If they don't, well, maybe that made-up report by Ian Rapaport about Ben Roethlisberger wanting out of Pittsburgh will turn out to be true after all. It's one thing to pay a quarterback $100 million and then have your pinhead owner announce he wants to be more of a running team. It's another to mismanage your roster so your QB has literally one competent receiver to work with. At some point, Big Ben is gonna say "enough is enough." And I wouldn't blame him one bit.