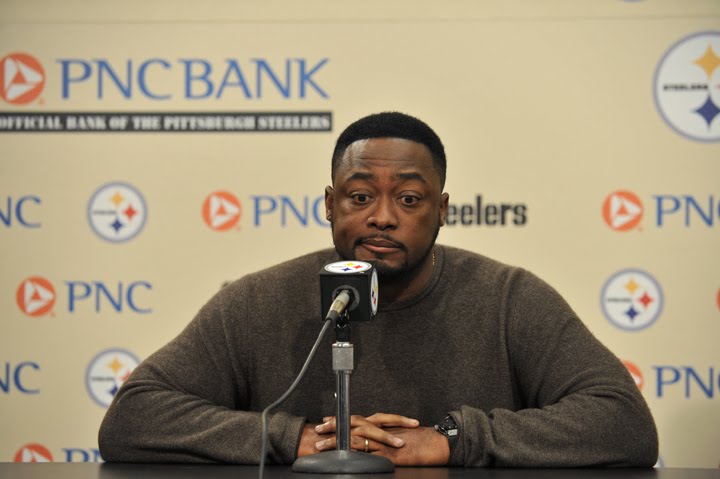 Mike Tomlin held his weekly press conference yesterday.
Did the Pittsburgh Steelers head coach shoulder the blame for the team's embarrassing effort against the Tampa Bay Buccaneers? Did he accept responsibility for the reckless nature in which his team plays? Did he vow to crack down on the showboating and stupidity which led to the Steelers being flagged an incredible six times for various personal fouls amongst the many other infractions his team committed on Sunday?
C'mon, this is Mike Tomlin we're talking about. Of course he didn't.
Tomlin is a terrible head coach. This has been clear to me since way back when I was running Nice Pick, Cowher. I wrote about it then and nobody would accept it because the team had yet to hit rock bottom. "But he won a Super Bowl in his second year! Bill Cowher took fifteen years to accomplish what Tomlin did in two!" said the Black and Gold diehards. I tried point out the core of that team was formed long before Tomlin set foot here. I brought up names like George Sierfert and Barry Switzer, coaches who won championships through simply not f'ing up. Still no dice.
I don't know if the constant lies, empty platitudes, chronic mismanagement, and culture of Me-First lawlessness we've had under Tomlin is rock bottom. I can't say if losing to the winless Bucs is rock bottom. I don't even know if three straight playoff-less seasons would be rock bottom. I really have no idea at what point the majority of Steeler Nation will see thru Tomlin and get fed up with his B.S.
There is one thing I do know, though. When that day comes, it won't matter. Regardless of what we fans think of Coach T's performance, he's never going to be fired. Never.
If you missed Fox's Sunday pregame show, there was a fascinating interview with Tomlin. The reporter asked him a very pointed question – our local media hardly ever does this because they're almost all shameless suck-ups and shills for the Steelers. Laura Okmin asked Tomlin if he was "a player's coach." Player's coach, in case you're unfamiliar, being code for "guy who refuses to discipline his team." Tomlin reacted poorly to this sentiment, claiming it would never be said about Dick LeBeau because "he's an old white guy."
Ah, the race card. I was wondering when that would come into play.
Tomlin was hired because of the Rooney Rule. There is no dispute about that. Dan Rooney forced the NFL into a preposterous "every team must interview a minority" rule that no other sport has and because of that when he needed a new head coach, the league basically forced him to hire a minority himself. Now that Tomlin is here, however, the Steelers can't get rid of him. There's no way the Rooney Family can fire their first head coach in fifty years when the two white guys before him were allowed to leave on their own terms. It wouldn't be the Steeler Way.
Tomlin knows he can't be fired. Make no mistake, that little "old white guy" jab was a clear message that he knows the Rooneys can't touch him. The job is his and will remain his as long as he so desires. Results be damned.
So anyway, yesterday was Tomlin's press conference. Reporters naturally asked him about all the dumb penalties. His answer was to basically pass the buck, referring to "our young leaders have to do a better job of channeling that frustration." or saying about Antonio Brown, "That's  simply what comes with being him." No accountability. No acknowledgement that perhaps discipline is lacking. Just more excuses and empty platitudes. The standard from the Tomlin regime.
Kevin Colbert is going to be fired at the end of this year. Mark it down, somebody will have to pay for the state of the team and as stated, Tomlin is untouchable. I can't quibble with Colbert being given a pink slip – Shazier might be a tackling machine, Tuitt might be the next Diesel, Archer might be  Darren Sproles 2.0 but at the end of the day there is absolutely ZERO justification for not taking a cornerback early in the draft. None. The secondary is not only complete garbage, they overpaid Cortez Allen because they panicked over not having any future options. He gots to go.
But Colbert isn't a dictator. Every move he makes is done with at least equal input from Tomlin. Every bad decision this team has made the past several years has two sets of fingerprints on it. Unfortunately, only one person is going to be held responsible.