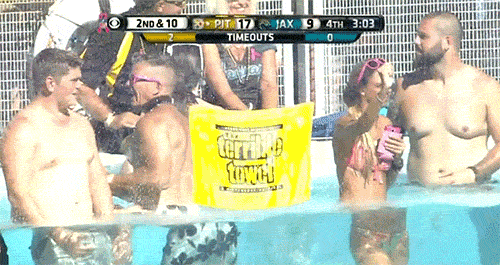 Yo,  blonde in the pink bikini, hit me up some time. I'm on twitter.
The Pittsburgh Steelers defeated the Jacksonville Jaguars 17-9 then proceeded to add insult to injury by taking over their pool. Not that many in the crowd of 70,000 were offended considering a solid two thirds of them were Steeler fans anyway. There are a lot of terrible fan bases in the NFL but none scrape the bottom of the barrel quite as badly as Jacksonville. We're five games into the season and other than week two at Baltimore, I don't think the Black and Gold have played an actual road game yet.
Where to start with yesterday's performance…
Blake Bortles is a rookie quarterback. He may or may not develop into a good one but for now he looks every bit like the clueless newbie making his second career start that he is. Dick LeBeau eats rookies for breakfast and while it took a bit longer than we would've liked, Bortles eventually fell to the master like so many others before him. It was as inevitable as death, taxes, or the Penguins choking in the playoffs.
Overall, though, the Steelers hardly put forth the kind of performance which fills you with confidence about the future. The Jaguars are a miserably bad team yet going into the fourth quarter they only trailed by a single point, 10-9. That's when LeBeau worked his magic and a badly bamboozled Bortles – say that three times fast – practically gift-wrapped a Pick Six to cornerback Brice McCain. Head coach Mike Tomlin will Mad Lib together his favorite hollow cliches – "a win is a win, we don't apologize for how we win, it's not about style points, blah blah" – but this team still has the stink of an 8-8 season all over it.
The Post-Gazette, in typical Yinzer Rah-Rah! local media cheerleading fashion, is already posting stories about how great the defense played yesterday. They held Jacksonville to three field goals! Whoopy Freakin' Doo! Jacksonville's offense is abysmal. The Jags drove down the field on their opening possession but their inept receivers dropped two for every one they caught. Then their offensive line took a dumb penalty that knocked them out of red zone and into a first and long, death for a team with terrible skill players and an inexperienced quarterback. It was laughable.
While Jacksonville's inept offense putzed around, our offense seemed determined to play down to their level. The Steelers moved the ball in fits and starts with dumb playcalls or penalties – I know, I'm as shocked as you are that Tomlin was full of BS about fixing that – holding them back. After the field goal, Ben Roethlisberger moved the team down to the Jaguars 4, thanks in large part to a brilliant 23 yard catch by Antonio Brown where he caught the ball while literally leaping over the DB in front of him. Seriously, it's one of the best catches I've ever seen yet it probably won't even make the Sportscenter Top 10.
What did they do once they reached the 4? If you said three straight pass plays, give yourself a cookie. I thought Art II decreed we needed to go back to Stiller Football? Don't we have one of the best backs in the league? Didn't we sign a big bruising powerback during the off-season? Why use them when Todd Haley's dizzying array of screens and dump-offs will do instead!
Naturally, all three plays went for naught and we had to settle for a Stonecold Shaun Suisham boot. The Steelers did manage their first – and only – offensive touchdown toward the end of the half when Haley's trickery paid off in the form of a bootleg pass to tight end Michael Palmer. See, this is what infuriates me about Haley. He cares more about showing everybody how clever he is than getting the job done. Okay, in that case it worked but should we be like, "You threw it to Palmer! They never expected that! You totally fooled them, Todd! You're a genius!" when the other five times he tries stuff like that we end up having to settle for field goals?
Speaking of which, I may have buried the lead there. We scored one touchdown against the Jacksonville Jaguars. ONE FREAKIN' TOUCHDOWN. Granted, the Jags defense came to play – Ben was sacked four times while local boy Paul Posluszny was running all over the field like a man possessed. Still, one touchdown?
The Steelers were only penalized seven times, an improvement over their season average of 11, although there's little reason to commit fouls when your opponent is nothing more than a nuisance. For those of us, mostly me, who wondered why Lance Moore wasn't getting more reps when he's far superior to useless Justin Brown, we may have finally gotten our answer. The Steelers were flagged for one unsportsmanlike personal – Moore spiking the ball after making a first down catch – for which Tomlin (to his credit) ripped him a new asshole. Guess Moore is in Coach T's doghouse-that-doesn't-exist-but-really-does.
I don't know what yesterday's victory means beyond we don't quite suck badly enough to lose to a really really really terrible team. It was nice to see some of the young guys on D step up – reader Brainslug may have been on to something when he commented that getting the youngsters experience couldn't help but make them play better. McCain and Cortez Allen can't cover like Ike did in his prime although the fact their hands aren't made of concrete might even things out. Stephon Tuitt got his first career sack although the Diesel is still playing pretty well himself. The offense has a ton of talent yet they continue their frustrating trend of struggling to put up points or even move the ball consistently.
Like I said, I don't think we really received any answers this week about what kind of team the Steelers have. In fact, I'm left with more questions than ever. All I know for sure is the Cleveland Browns, coming off the greatest come from behind road victory in NFL history, are up next. An effort like this next week simply won't cut it. Not by a long shot.