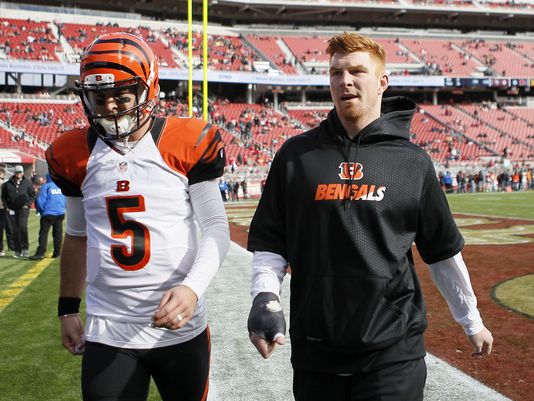 In the run up to Saturday's playoff rubber match between the Pittsburgh Steelers and Cincinnati Bengals, two key injuries that will bear watching. First is the ankle injury suffered last Sunday by Steelers running back DeAngelo Williams. Second is the broken thumb that cost Bengals starting quarterback Andy Dalton the last month of the season. Either one could very well tip the balance between these two closely matched teams.
When Williams was carted off the field in Cleveland after getting his ankle twisted up on a tackle, it appeared his injury was similar to one suffered earlier in the year by Ben Roethlisberger. The fact he was later seen in full uniform doing some light jogging on the sideline seemed to mitigate those concerns. And indeed, the news is pretty positive. His MRI revealed no structural damage which means he basically has a sprained ankle.
Of course, sprained ankles and running backs aren't a good combination. Mike Tomlin calls him "day-to-day" which means his pain threshold and how fast he heals will determine if we see him in the Wild Card game. The Bengals have a strong run defense but Williams has put up a pair of solid 75 yard efforts in the two previous meetings. That may not be a lot but is important to keep teams honest by showing at least the semblance of a ground game so they can't just tee off on the pass rush because you're throwing every down.
Tomlin may believe in "Next man up" but the Steelers really have no good options behind DW. As of now, the team is anticipating Fitzgerald Toussaint will be making his first career start in his place. Stop me if you heard that story before as last year practice squad fodder Josh Harris made his first start in the Wild Card against the Ravens. Toussaint went undrafted after a four year career at Michigan that was constantly interrupted by injuries. He'll be backed up by journeyman Jordan Todman.
While the Steelers worry about their running back depth, the Bengals have a quarterback situation to monitor. Dalton got his hand cast removed this week and will begin rehabilitation on his broken thumb. I wonder if that involves playing lots of Xbox. Coach Marvin Lewis has stated they're going ahead under the assumption AJ McCarron, who has played quite well in his three starts, will be behind center.
Dalton could still very well be in uniform, however. While the bone has healed, anybody who's ever wore a cast will know there's always a degree of strength and motion loss. Since it's on his throwing hand, that could affect everything from his grip on the football to his ability to throw decent spirals. Unless he returns to practice, I imagine McCarron will make the start although I wouldn't be surprised to see the Red Rifle in a back-up capacity.
Unless the Bengals wanna pull a Harbaugh on us and announce a quarterback change three hours before game time.