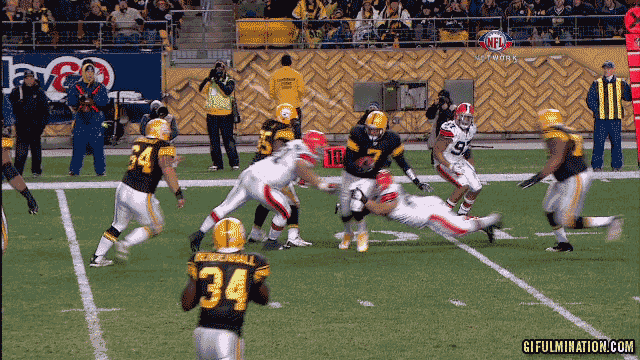 There's an old joke about being as useful as a one-legged man in an ass-kicking contest. Perhaps that saying needs to be updated in light of last night's game between the Pittsburgh Steelers and Cleveland Browns. Yesterday, the Browns got their asses kicked by a quarterback playing on one leg.
The Steelers 14-3 victory may not sound particularly exciting but, at the risk of hyperbole, it'll be a game forever remembered in Pittsburgh lore. And that's entirely due to the almost superhuman courage displayed by Ben Roethlisberger. When Ben had his ankle rolled up from behind mid-way through the second quarter, a hush fell over the Heinz Field. After hobbling off the field, then literally being carted from room to room in the back, it appeared Ben was not only lost for this game, but perhaps the rest of the regular season.
As halftime came to a close, however, there was Big Ben, still in full uniform rather than crutches or sweatpants, taking snaps like he intended to return. And return he did, despite playing with a horrific limp and making a majority of his throws flat-footed. It was an epic display of toughness by a player whose career is marked by them. Partially due to his off-field situations and partially due to his style of play, Ben has always been an underrated and slightly polarizing figure among NFL fans in general and Steeler Nation in particular. If last night didn't finally establish once and for all that Ben is one of the toughest and most courageous players to ever lace up the cleats, I can't help you.

So this doesn't become a 1,000 word love letter to Big Ben, let's discuss the actual game a little. The Browns stink. Unfortunately, the Steelers put forth such a sloppy, undisciplined, mistake-filled effort that Cleveland remained in the game until late in the fourth quarter. Despite every attempt to hand them a win, leave it to the hapless Browns to snatch defeat from the jaws of victory.
Colt McCoy moved his team down the field on their opening drive. He appeared to score on a QB draw but upon review his elbow hit just short of the goal line. Despite allowing the Browns to go 79 yards with minimal effort, the defense took advantage of a break, holding them to a chip-shot field goal. The Steelers answered with a 22 yard gain by Mike Wallace on their first play. Five snaps later, Ben shrugged off three would-be tacklers and found Jerricho Cotchery for a touchdown.
The defense held on the Browns next possession and the Flying Circus was back in business. Ben threw a little screen out to Hines Ward, who bulled ahead for six yards. While fighting for yardage, he was stripped of the ball. It's a play Hines has probably ran about 300 times over his illustrious career and I honestly can't ever remember him fumbling. Yet fumble he did. Maybe he's just not used to catching the ball anymore.
The Browns had no interest in winning so two plays later, McCoy threw an ill-conceived pass which Troy Polamalu intercepted. The offense picked up basically where Hines fumble had left off. On the very next play, Ben hit Heath Miller over the middle for 7 yards. However, Heath took a hit right to the hands and wound up fumbling the ball back over to the Browns. Just an absolutely atrocious sequence of ineptitude by normally dependable veterans in the Steelers offense.
That's when disaster struck. Big Ben was running around, trying to make a play, when he was basically high-lowed by two defenders, except high hit him from the front and low came in from behind. His left leg contorted in an ugly fashion as visions of Tom Brady and Joe Thiesmann no doubt filled Steeler Nation's heads. After a commercial break (Gotta pay those bills, NFL Network!), Ben was helped off the field by two trainers, putting absolutely no weight on his left foot. It was Charlie Batch time.
I'll write more about this at a later date but let's just say Chaz did not play well. In fact, I would caution Steeler Nation to refrain from Indy jokes from this point forward because if we were to lose Ben, I have to wonder if the Flying Circus with Batch at the controls would be able to lead the team to a single victory. Chaz attempted four passes, two were horrible throws which fell incomplete, one was a little shovel deal to Mewelde Moore, and on the fourth he temporarily lost his damn mind and tried to scramble around like Ben in slow motion but ended up taking a sack.
Hennessy nailed it a few weeks ago. If this team wants to be a high octane pass-first offense, they better invest in a decent back-up quarterback this off-season. As it was, a one-legged crippled Ben Roethlisberger was a far superior option to a fully healthy Charlie Batch.
As noted, Ben returned to the field (Dum. Dum-dum-dum. Dada-dum-dada-dummm...) and tried to perform as gamely as he could. He was so hobbled, he struggled to get back on hand-offs and, while I don't profess to be a QB-nerd like Ron Jaworski, it seemed he was attempting to make a lot of throws flat-footed. Luckily, the Browns are the worst run defense in the NFL so Rashard Mendenhall (18 carries 76 yards) and Issac Redman (6 carries but 35 yards) were able to take a little pressure off Ben. Meanwhile, the defense continued to stymie the Browns offense.
Early in the fourth quarter, the Steelers finally got something going and mounted a 15 play 91 yard drive. A brilliant 24 yard run and catch by The Flash was initially ruled a touchdown but brought out to the 2 after review. Mendenhall got stoned on first down. Then he was stopped on second down. Hey diddle diddle, Mendy up the middle for nothing on third down. On fourth and goal, Mike Tomlin made one of his patented idiotic decisions by going for it. To compound the stupidity, after watching Mendy get stopped cold on three consecutive runs, instead of, oh, trying something different or bringing in Redzone (averaging 5.8 YPC, by the way), what do they call?
MENDY UP THE MIDDLE.
The D once again held and a horrible punt gave the Steelers great field position at the Cleveland 38. NOW the coaches decided to give Redzone some carries and he got 10 yards on two attempts. Unfortunately, the second run was called back by a holding call on Chris Kemoeatu. A big handicap on the earlier goal line drive was the absence of center Maurkice Pouncey, who left the game with his own high ankle sprain, necessitating the Big Legursky moving to center and Kemo taking his place at guard.
I try not to swear on this blog because I know Steeler Nation encompasses all ages (plus I never know when my mom might stumble over here) but Chris Kemoeatu is a total piece of shit. On the fourth down play, he just fell down like the useless fat ass he is which led to Mendy getting blasted for no gain. He also got called for not one, not two, but THREE holding penalties, the third of which wiped out Redzone's run and led to Ben throwing a crucial pick one play later. Kemo is the most utterly pathetic football player I've ever seen. CUT THIS MAN IMMEDIATELY.
Given new life, McCoy attempted to rally his team. James Harrison absolutely annihilated him, earning him his first personal foul of the season. The size of the Ginger Dictator's erection upon seeing he can finally penalize his favorite whipping boy could no doubt be seen from the Kepler satellite. The anti-Steeler media is already discussing a suspension which I'd be livid about because this was a clean football play. McCoy was scrambling around, trying to make a play. What's Silverback supposed to do? Ben takes hits far worse than that at least two or three times a game.
The 15 yard penalty put the ball at the Pittsburgh 19. Backup Seneca Wallace came in and made a nice throw to tight end Evan Moore for 13 yards. Thanks to Tomlin's insanity and Kemo's ineptitude, the Browns were six yards away from taking the lead. Thankfully, the Cleveland coaches are even dumber than ours, putting the ineffective (and probably loopy) McCoy right back in the game. On third down, he threw a lame floater into the end zone, and Will.i.am came down with a Big Gay Interception.
Ben came in and threw a nice short back shoulder pass to Antonio Brown, the corner slipped, and AB showed Wallace-ian speed taking off for a 79 yard touchdown to ice the game.
Gay continues his habit of late-game heroics. AB continues to establish himself as one of the best young receivers in football. James Harrison continues to serve as a one-man wrecking machine. But at the end of the day, all that we'll remember is the courage displayed by Ben Roethlisberger. The toughest SOB to EVER play quarterback.