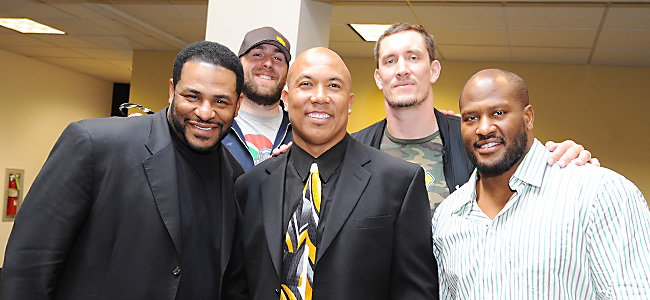 Our national nightmare has ended. For card carrying citizens of Steeler Nation that is. Yesterday afternoon, Hines Ward officially announced his retirement in an emotion-filled press conference you can watch by clicking here. A few hours later, Peyton Manning held his own press conference where he was introduced as the new quarterback of the Denver Broncos. I point this out because as sad as it is for Hines to hang up the cleats after fourteen glorious seasons, think about what it would've been like to see a beloved player who led our team to some of the greatest victories in franchise history wearing the jersey of another team.
Of course, in Hines' case that was never going to happen. Anybody who watched him closely the past two seasons could plainly see he was old, slow, and couldn't get open. The only people who thought he could still play were a small cadre of his hardcore fans and Hines himself. The stuff in his press conference about wanting to "retire a Steeler" was, frankly, total bullshit because if he wanted to retire a Steeler he would've called it quits when they cut him two weeks ago. When he was released, he clearly stated he intended to continue his career elsewhere next season and he even reiterated yesterday that he thought he had "one or two"(?!?!) more years left in him.
I understand that walking away is hard for athletes to do. Aaron Smith, despite his injury history, had to practically be forced into retirement. At the same time, Smith didn't carry on some charade that he'd continue his career elsewhere when it was obvious to everybody that he was washed up. I don't begrudge Hines still wanting to play but spare me this talk of wanting "to retire a Steeler" when the truth is he's retiring because nobody else wants him.
Just because we love ya, Hines, doesn't mean you can piss on our leg and tell us it's raining.
I don't want to be too hard on Ward because I'll be the first to admit to getting a little misty-eyed watching him speak. Despite what some of you may think, I always have been and always will be a big fan of #86. I meant everything I said in the tribute I wrote about him when he was released a couple weeks back. I only wish he would've had the grace and tact to call it quits back then although, as I've said, at least it's better than watching him muddle through a totally unproductive season as a fourth receiver for the Arizona Cardinals.
The picture above was taken after Hines' press conference. Jerome Bettis flew up from his home in Atlanta to be here for the announcement. The only other Steelers to attend were defensive players James Harrison, Brett Keisel and the aforementioned Aaron Smith. No current member of the Steelers offense was in attendance nor was head coach Mike Tomlin. I'm not sure what to make of that since by all accounts Ward was well-liked by most of his teammates. There have been whispers that Tomlin and Ward didn't have the best relationship, no doubt exacerbated by Tomlin's decision to demote him to fourth string this past season. Insiders have said it was ultimately Tomlin who did not want Ward back, not for veteran's minimum, not if he offered to play for a dollar.
Diehard Steeler fans are also well aware of the frosty relationship that has always existed between Hines and Ben Roethlisberger so it's no surprise he wasn't on hand yesterday. Yet in an ironic way, things have come full circle. When Ben took his first snap as a rookie, the Bus was the team's undisputed leader. When he retired, Bettis passed that mantle over to Hines. With Hines gone, this is undoubtedly Big Ben's team now. He definitely has some big shoes to fill.